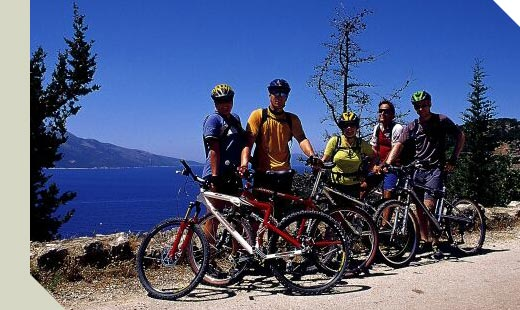 home
choose your trip
holidays 2006
calender
price list
booking form
2006 bikes
information
contact us

Enter your e-mail to receive a newsletter

You're sure to find the mountain biking holiday of your dreams with Mountain Beach. This year herald's our 21ST anniversary in mountain biking and organising tailor-made mtb tours to suit all abilities.
From technical single tracks, tough climbs and endless descents, to more leisurely off-road routes, we believe mountain biking holidays should be accessible to everyone with an appetite for adventure. Our commitment is to provide Real Mountain biking in new and exciting locations whilst offering a genuine sense of exploration, without the hassles. With guaranteed hand-picked accommodation, slick private transfers, experienced guides and much more, each holiday has been researched and planned to provide a fantastic travel experience.
For 2006/7 there's the choice of centre-based holidays in Greece, Portugal, Slovenia, Canada and two Italian venues; unspoilt Tuscany and spectacular Sicily. Our mountain bike 'cross-country' programme include'S a new Canadian trip from the Pacific to the Rockies, our 'refuge to refuge' tour in the Tuscan hills and a Northern Isles tour of Iceland /the Faroe's/ Shetland's as well as our regular trips in the Ionian Islands or across Scotland.
Further afield, our Latin America programme includes a fabulous Christmas/New Year trip across the Andes of Northern Patagonia along with epic journeys through Costa Rica and the fantastic biking of Argentina and Brazil. For our first trip to South Africa we've a gem of a journey through the Drakensberg mountains and Swaziland. And 'Down under' in New Zealand we can offer unbelievable scenery and a lifetime of experiences crammed into three amazing weeks.Closer to home, a host of weekend get-togethers give you the chance to get to know us better and promise 100% enjoyment. We look forward to meeting friends old and new in 2006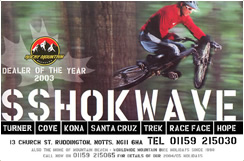 January 2006
Good News on prices for 2006
Good news….yet again we are pleased to see that Mountain Beach holidays are way less than our co…
December 2005
PERU
Peru will happen in October 2006.As soon as our photos are back and our accommodation confirmed th…
December 2005
Happy Crimbo and wishing you a prosperous new year!
Hope you like the new 2006 web site. There's heaps of new weekend rides, so get your diaries out -…
December 2005
New shop web site coming soon!
Take a look at www.SSHOKWAVE.co.uk which should be going live shortly.If you can't wait to order a…
October 2005
SCOTLAND C2C 2006
Here are the dates for our most popular trip, APRIL 29 TO MAY 6. MAY 27 TO JUNE 3. JUNE 3 TO 10. …

slovenia
portugal
canada
canada 'single track attack'
new zealand
costa rica
argentina
brazil
christmas in the andes
scotland/hebrides
weekend breaks
tuscany
sicily
Iceland/Faroes/Shetland
south africa

• choosing your trip
• who travels with us
• guiding and support
• fitness
• daily distances
• when to book